A couple in Centreville, Virginia prefers color than stains when they decided to design their kitchen. They are more of a contemporary-lover that is why they requested a minimalist approach incorporating strong colors and finishes.
Color is style. In the modern setting, contemporary paint colors such as white, blue, yellow, red, green, and orange will give a stylish and attractive factor to your kitchen. Especially now interior designers already have countless ideas to modernize these shades.
BLUE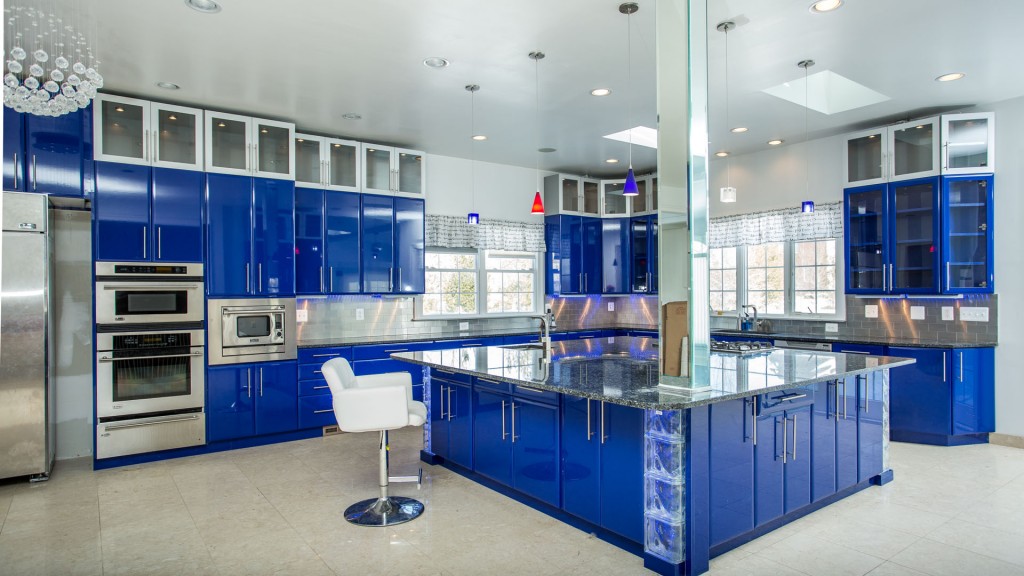 Blue has always been the top choice for homeowners who root for a cool ambiance in their living space. Such color always brings good vibes even in different tinge. You can imagine the sky and the sea in light blue color. On the contrary, bright blues such as turquoise, aqua, cobalt, and navy blue manifests sophistication and boldness. However, when you opt to paint your kitchen with bright blue hues, make sure space receives a lot of natural light to avoid that gloomy feels. Other modernized blue colors that are mostly used nowadays for interior finishes are cerulean and cyan.
YELLOW AND GREEN
Cheer up the mood of your kitchen with the fun shades of yellow and green. These bright shades work well in your kitchen with just a considerable amount and right way of matching. It is highly recommended to only use such colors in your pantry or as an accent wall. Modernize shades of yellow and green are Dalila, citron, chartreuse, sundance, bold yellow, vivid yellow, golden honey, and lime.
ORANGE
Warm up the atmosphere of your kitchen with the rejuvenating effect of the color orange. This shade is mostly incorporated in the Tuscan-inspired kitchen because it fits well with the rustic style. Orange works attractively with white and gray accents to come up with refreshing feels. Few of the modernized shades of orange are tangerine, soft marigold, sky orange, blood orange, pale daffodil, Audubon russet, pumpkin, and summer squash.
RED
Red is the most consistent color because it has been used in kitchens for years due to its psychological factor which stimulates hunger. Thanks to interior designers, this color found its amazing beauty especially when paired with shades of white, gray, golden yellow, and navy blue. Modernize shades of red are rustic red, autumn red, candy apple red, terracotta, magenta, crimson, coral, poppy, and cranberry.
Plain white kitchen cabinets, white appliances, and stainless steel are the wisest choice to match modernized colors. If you're wondering what other factors that make a modern kitchen look lively, then it's the little influence of traditional style.
I say, always think out of the box when giving finishing touches to your kitchen. Experiment, experiment, and experiment! Give your kitchen a breath of fresh air.
The enhanced work ethics of Michael Nash Design, Build, & Homes is what makes us excel for over 30 years in the home remodeling industry in the whole of Northern Virginia. Thanks to the changing needs of homeowners.
Michael Nash Design Build & Homes is a world-class, multi-awarded remodeler company which specializes in kitchen remodeler, bathroom remodeler, Complete Basement Remodeling, and Complete Home Additions & Extensions. Our expertise also extends to Addition Remodeling as well as Major Renovations, New Custom Homes, Outdoor Living Services, etc. For inquiries and in-home consultations, call us on our mobile number (703) 457-8684. You can also take advantage of our services through these areas: Northern VA | Aldie | Alexandria | Annandale | Arlington County | Arlington| Ashburn | Burke | Centreville | Chantilly | Clifton | Dunn Loring | Kitchen Remodeling Fairfax County, VA | Fairfax Station | Fairfax | Falls Church| Gainesville | Great Falls | Haymarket | Herndon | Leesburg | Lorton | Loudoun County | Manassas | McLean | Merrifield | Oakton | Potomac Falls | Prince William County | Purcellville | Reston | Springfield | Sterling | Vienna | Woodbridge, VA
Certifications and Awards
Chrysalis Award National Winner, National NARI CotY, QR Master Design Awards, NARI Capital CotY, Please refer to our website for the complete list of awards.